---
---
Lasers and Laser Display Systems

Nemesis Low Cost Laser System
Nemesis is the most inexpensive, reliable and highest specification DPSS laser system available anywhere. Each Nemesis system has in-built thermal management, control systems and lasers that have been developed in house at Laser Electronics Ltd. At the heart of each Nemesis System are solid state lasers that come in 3 configurations. The lasers produce laser light at 532 nm, 635nm and 473nm or a combination of all three. Nemesis comes in power ranges from 200mw to 2.0 watt and can be configured to any configuration to suit the needs of you the customer.

Please click on the More Nemesis below for further information.
<![if pub]> <![endif]>More Nemesis
Showcase High Power Laser System
The Showcase range of lasers uses our own High Power DPSS laser system. Unlike other companies, we manufacture the complete system from start to finish, thereby allowing greater quality control and one of the highest beam specifications available from any DPSS laser, with the option of 3 watt, 4 watt ,5 watt or 8 watt output. The new Showcase High Power 8 watt multi-color system is now available at a price that no other company can beat.

The Showcase Laser System comes with standard 100 khz blanking, 42 Khz scanning, Low beam divergence and is available with either Millennium control software, Zion control software or as an integrated system component for a full V3D multimedia system.

Please click on the More Showcase below for further information.

Orion Multicolor High Power Laser System
The Orion system is our latest development in DPSS Laser systems. This system includes full color selection across the Red, Green and Blue spectrums and high speed 42 Khz laser scanning. Orion has a 1.5 watt output with the same visible brightness of a 3.5 watt water cooled three phase laser with an AOTF, complete ready to run systems start at under £8,000.

Please click on the More Orion below for further information.

The Pictures below are all created using products we produce.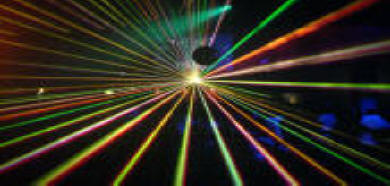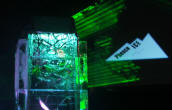 ---
---
Contact Information
Telephone

+44 (0) 1754 811137

FAX

+44 (0) 1754 811104

Postal address

Gunby Road, Orby, Skegness, Lincolnshire, England PE245HT

Electronic mail

General Information: info@laserelectronicsltd.com
Customer Support: support@laserelectronicsltd.com
Webmaster: clive@laserelectronicsltd.co.uk
<![if pub]> <![endif]>