---
---
V3D Laser and Video Software
Click Here to Download V3D Demo ---->

Click Here to Visit Laser Software Features Site
Control your Laser System and Output to your Video system simultaneously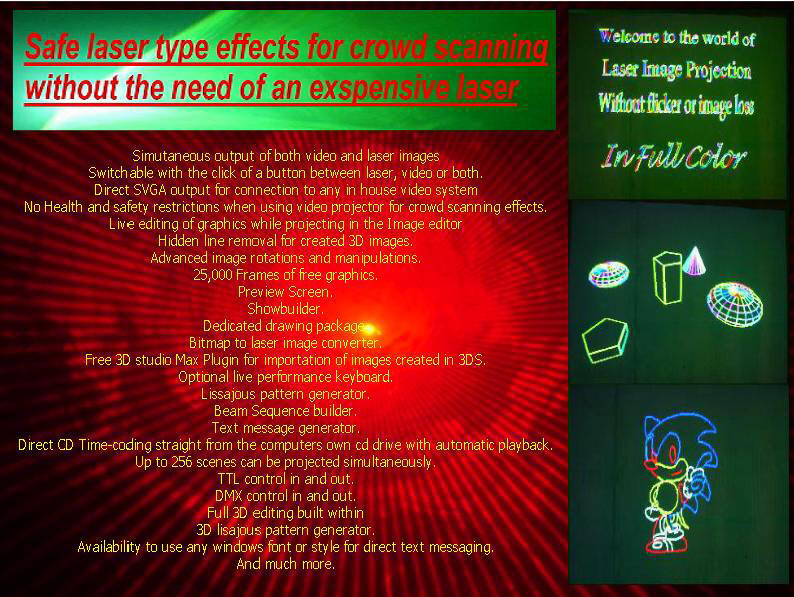 Click Here for short Video Demo of V3D using 600 Ansi Lumen Projector.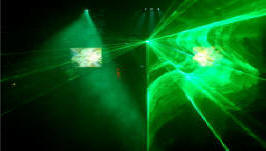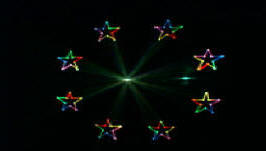 The inspiration behind the creation of V3D was to produce laser effects that are totally safe for crowd scanning and to provide a low cost alternative (in V3DLite) for students who wish to combine Art, Light and Technology within their curriculum studies. This was accomplished by using a high output video projector to produce the effects that a laser system would produce but without the need of an expensive laser system. The only requirement is that the computer running V3D has a second graphics card that V3D can use as its output interface. Any video projector with a standard SVGA input can be connected to V3D and used to display the output just as if you were connected to a laser system. V3D is based around Laser Electronics Ltd proprietary 3D engine. Currently all other laser software is based around vector graphics and all video software is based around raster scanning. This is where V3D differs. Our lead programmer and our development team came up with the concept of applying the definition of computer graphics that are used in computer games, then converting them into laser images and direct drawn composite video images. V3D allows the creation of true 3D Lisajous images, real 3D objects such as cubes with hidden line removal, true type fonts, and the creation of text from any font on your computer. V3D also enables you to create real 3D images not fake. V3D has all of the capabilities of Millennium and Zion, plus lots more. Other impressive features include:
Simultaneous output and control of both video and laser images
With the click of a button switch between laser, video or both.
Direct SVGA output for connection to any in house video system or video projector.
No Health and safety restrictions when using video projector for crowd scanning effects.
Totally safe to the human eye.
Live editing of graphics while projecting in the Image editor.
Hidden line removal for created 3D images.
25,000 Frames of free graphics.
Bitmap to laser image converter.
Avi to laser image converter.
Free 3D studio Max Plug-in for importation of images created in 3DS.
Optional live performance keyboard.
Lisajous pattern generator.
Beam Sequence builder.
Text message generator.
Up to 256 channels can be projected simultaneously.
TTL control in and out.
DMX control in and out.
Full 3D editing built within
3D lisajous pattern generator.
Availability to use any windows font or style for direct text messaging.
And much more.
The four pictures below are of V3D using a 15k ansi lumen projector to emulate laser effects within a Nightclub.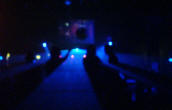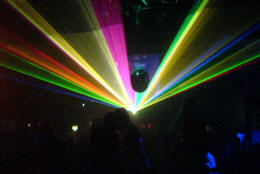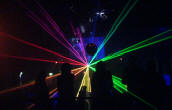 ---
---
Contact Information
Telephone

+44 (0) 1754 811137

FAX

+44 (0) 1754 811104

Postal address

Gunby Road, Orby, Skegness, Lincolnshire, England PE245HT

Electronic mail

General Information: info@laserelectronicsltd.com
Customer Support: support@laserelectronicsltd.com
Webmaster: clive@laserelectronicsltd.co.uk